---
It Calms your Pet, Naturally & Instinctively

Your dog needs a friend. And you need this hug-able toy. The Pure Love Puppy Heartbeat Snuggle Toy is designed to help your dog cope with everyday stressors that are keeping him or her from being their lovable, loving self. With a soft and fluffy heart that beats like a real-live animal, the Pure Love Puppy Heartbeat Snuggle Toy combines physical warmth and comfort to simulate the intimacy your anxious pup feels when in the company of its litter mates or mother.

Heartbeat Technology + Heat Pack works like Magic

By recreating the intimacy and physical warmth of your touch, it provides the comfort your anxious pup craves in times of stress due to loneliness, fear and separation anxieties. This stuffed animal behavioral aid features a real-feel heartbeat, pulsing at the natural rate of a resting dog. It also includes a heat source to calm your pup and reduce negative behaviors such as barking and whining." It makes an excellent companion for separation anxiety or trips to the vet or groomer!

.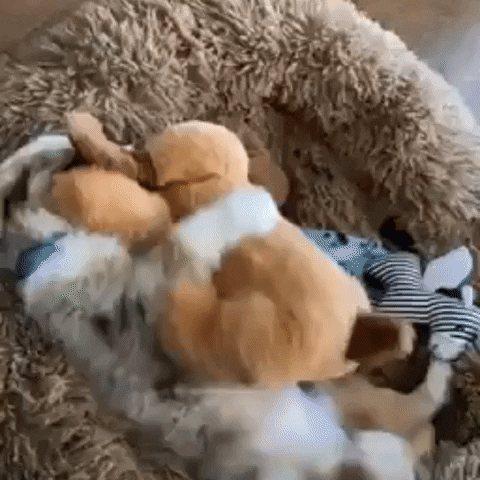 .
Pure Love Puppy Heartbeat Snuggle Toy is an Effective Behavioral Aid

Pure Love Puppy Heartbeat Snuggle Toy calms your pet naturally without medication or restraint. Whether it be a new transition, crate training, puppy crying through the night, fireworks, or thunderstorms; rest assured Snuggle Puppy will be there to provide comfort and reduce anxiety in your four-legged friend. Helps them transition into their new home and sleep soundly through the night.
Key Features
The Toy is made of a very soft, quality plush material. It has long droop ears and a soft body. Pure Love Puppy Heartbeat Snuggle Toy comes with a realistic pulsating heartbeat for that reassuring sound.

The Pure Love Puppy Heartbeat Snuggle Toy also comes with a heat pack to calm and warm your puppy to encourage them to cuddle in and doze off to sleep.

There is no zip where you put in the heart, but it has a tough, well-tested Velcro tape that is well hidden so that even a large mature dog would find it hard to rip open.

Heat pack provides an extra source of comfort for your pet. Place the heat pack in the microwave for a few minutes before use, and put them inside the toy to keep your pet warm in the cold autumn and winter.
Easy to clean, the plush toy is machine washable with the heart removed.
Pulsing heartbeat lasts up to two weeks of 24/7 use on just one pair of AAA alkaline batteries (Not included).
What's Included: Toy with Beating Heart and Heat pack