---
 "This is a life saver! My Cat was addicted to the bathroom faucet - he finally found the right drinking faucet! " - Hannah J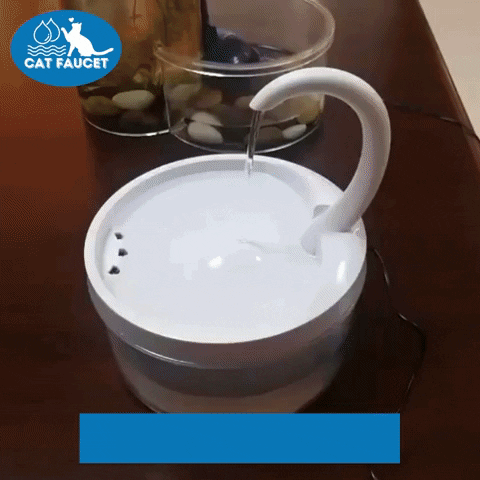 IS YOUR CAT DRINKING CLEAN WATER?

If you have ever looked into the eyes of your pet, you have seen the reflection of your love. Today your pet needs you even more than yesterday because of our polluted environment.
Every Cat deserves fresh, filtered water throughout the day but not every pet parent has a lot of time on their hands to monitor a water bowl. Unfiltered water has Lead, Fluoride & Arsenic which can cause Diarrhea, Urinary tract issues & serious Kidney ailments in Cats. With the Cat Faucet™ - Intelligent Cat Drinking Water Fountain you can be sure that your cats are getting enough clean fresh water. Enjoy your time with your pets without any worries of getting viruses and bacterias from drinking unclean toliet water or kitchen sink water. The Cat Faucet™ is perfect solution for your beloved cat.


CATS LOVE FREE FALLING WATER

Cats are hesitant about drinking water from a regular bowl. They often lap up a few sips of water, before turning their nose up at the rest. Cats are hardwired to prefer moving water. There are a few reasons for that:

They can't always see the still water too well.
They feel unsafe sitting at the bowl and drinking, afraid they could be ambushed.
They are evolutionarily hard-wired to be wary of standing water, which is more likely to be stagnant and bacteria-laden than running water in nature.
The sound of running water draws cats to it—it's easier for them to find than still water.
Water from the faucet might be more refreshing and taste better than water that has been sitting in a bowl, especially a plastic or metal one.
 The Cat Faucet™ is your pet's solution for staying hydrated. This free-falling water stream provides your furry family members with continuous running water, just like you have in your bathroom sink. This encourages them to stay healthy and drink more fluids.

UNIQUE SWAN NECK DESIGN
Inspired by nature, the Cat Faucet™ was designed to provide a soothing stream of drinking water. It has a unique Swan neck design that offers fresh moving water continuously. It's easy to set up thanks to an auto-feed mechanism.
With a lightweight, compact and easy-to-install design, the Cat Faucet™ - Intelligent Cat Drinking Water Fountain is exactly what every feline needs. It won't take up too much countertop space, so you can place it wherever your furry friend likes to hang out. Plus, the BPA free plastic used for this pet water dispenser ensures that your cat can enjoy its fresh water for years to come! Your cats will love the fresh flowing water, its purrfect!
THREE LAYERED FILTERATION SYSTEM

Cleanest Water! It's simple. The best tasting water comes from a clean and renewable source. The Cat Faucet™ - Intelligent Cat Drinking Water Fountain is the only cat drinking fountain that has been designed with an equipped filtration system to keep the source of your cats' water clean and fresh. With three layers of filtration, you know you are giving your cat the very best. Cat Faucet™ removes harmful bacteria and parasites and leaves you confident that the water in your fountain is healthy, safe, and free of contaminants.
**Please Note: We recommend changing the filter once a month to ensure your Cat is getting the clean, filtered water they need.
2 LITRE LARGE WATER TANK AND EASY TO CLEAN
Wasting time in filling up your cat's water bowl every now and then? No way, Cat Faucet™ 2 Litre water tank capacity should keep your cat well-hydrated an intelligent drinking fountian that only needs to be refilled every 2-3 days. Moreover the wide-base tank makes the Cat Faucet™ completely spill-proof and impossible for cats to knock over or tip over. No more mess or wet cabinet floors!

Cleaning the Cat Faucet™ has never been easier. Designed with only 3 main parts, our design prevents any splashing and makes cleaning an easy job. The parts come apart so you can have your Cat Faucet™ cleaned in less than ten minutes. Made with next-generation technology: you know what that means – less parts, easier cleaning, and longer lasting performance!
FEATURES
Water Fountains that imitate the flow of faucets captivate animals and encourage pets to drink more water.
The multiple purification systems can clean and soften water, while filtering hair, sediment and impurities, to obtain more oxygen and freshness. Activated carbon filtration upgrades water quality by removing chlorine, sediment, volatile organic compounds (VOCs), taste, and odor from water. 
With blue LED function, Cats can drink water safely at night.
The cat fountain is made of high-quality ABS and PP, and it is easy to disassemble and clean; the transparent box allows you to observe the amount of filled water at any time.
Ultra-silent operation: No need to worry about the pump noise interrupting you and your pet's rest. Pet's are not frightened by the fountain.