---
Are you and your dog ready to hit the great outdoors? Take your dog with you on your adventures. He's just as important as you are, so let him sleep comfortably after a long walk or a day's hike.

Get ready for the Great Outdoors

This Camp Dog™ Outdoor Travel Dog Mat is intended to be left out in the elements. It'll need to fend off everything from sand and water to mud and snow. Camp Dog™ dries quickly when you're dealing with wet grass and soil, and its waterproof bottom will keep it from getting soaked when you're exploring puddles and muddy trails. A waterproof, lightweight, padded and comfortable roll-up, a portable dog bed is not one to miss! Whether you own a cocker spaniel or a German shepherd this dog outdoor roll-up will ensure that your pet has a comfortable place to sleep after a long hard day of enjoying life! 
A Problem Solver 
A lot of people use regular old blankets or towels. However, they aren't really comfortable and are probably not sturdy enough for your dog either! The Camp Dog™ Outdoor Travel Dog Mat offers the perfect solution! Camp Dog™ folds completely into a small, portable case that's easy to toss in the car and convenient to take along on your adventures.
Camp Dog™ is made of High quality Nylon fabric and has an anti-slip bottom with multiple ridges that effectively prevent it from sliding on the ground, leaves, pebbles, sand, grass or snow. This helps keep it nice and secure. The durable adjustable buckle clips the mat to a compact size, once rolled up!
 Practical Design for your Backpacker Dog 
While Camp Dog™ is a must for camping trips, it's also an excellent choice for dog owners who have limited space because the mat folds up compactly for convenience and portability.
It is a perfect outdoor dog bed for camping, dog houses, basements, patios, backyards and more. Weighing 500 grams. and folding to about 1" thick, Camp Dog™ folds completely into a small, portable case that's easy to toss in the car and convenient to take along on your adventures.  And it's a breeze to clean after muddy paws, dirty boots or other kinds of messes. Just throw it in your washing machine for spotless refreshing look.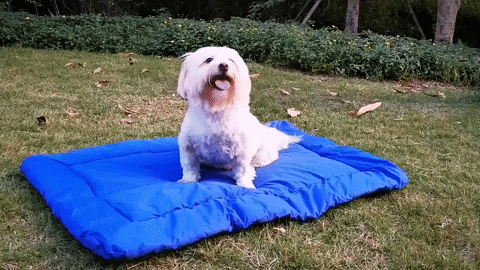 Camp Dog™ Features:
Anti-Slip Design - Unlike ordinary pet beds, this premium dog bed won't slip & slide around. Rubber grip dots on the bottom provide plenty of traction, even on smooth floors & pavement.
Waterproof & Quick-Drying - Sudden downpour? Wet ground? No problem. This bed dries super-fast, so it never gets soaked or soggy. 
Light & Easy to Carry - Taking your dog with you on a camping trip is a great way to bond with your pet. This dog sleeping bag can be simply rolled up and fastened with strong nylon buckles, so that you can easily carry it while you are on trip. Rolled up, it's only 12 inches x 8 inches (90cm x 60cm). And weighs only one pound (500g)!
Easy to Clean - Shake off any dry dirt after use. Or toss it in the washing machine on gentle wash and low heat to dry.